2 Sept 2015: Seeking Contributors
I'm looking for some developers to help me finish the 2.0 version.
Most of the core has been done and only the user interface remains.
If you are willing to help and are familiar with AngularJS, design-material, io.js and all the stuff from npm to bower, just send me a PM.
Thanks !
---
Release notes | Themes | Documentation | FAQ
This project is a new breath of the famous XBoxDvdMenu application made by diagdave and rejdzu.
XKeyBrew helps you manage your xbox360 original backup games by automatically:
extracting information from backup ISO files (id, name, ...)
downloading media data (cover, banner, publisher, ...)
verifying the integrity of your backups
It also additionally creates a dvd menu that once played through the xkey device will let you choose and launch a desired backup on tv.
Latest release (v1.7.1)
Latest news
15 Jan 2015 : After a month off, dev is back on track and happy 2015 !
25 Nov 2014 : Getting hard time with current UI framework... looking for replacement
11 Nov 2014 : Most of the core app has been rebuilt, working on UI right now
24 Oct 2014 : Currently working on 2.0 version (built from the ground up to give better flexibility)
Core Features
Cross-platform (Windows, MacOSX, Linux)
Support of DvdStyler (2.5+ required) and Abgx360
Game library
Theme builder
Multi-language
Screenshots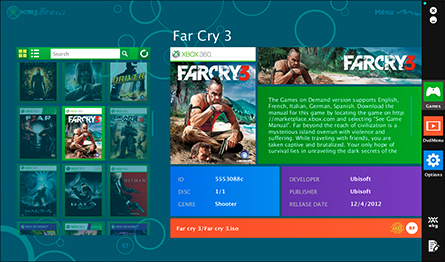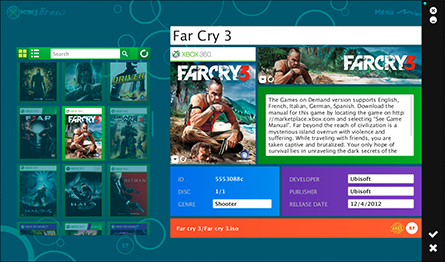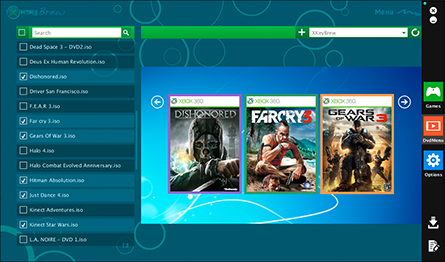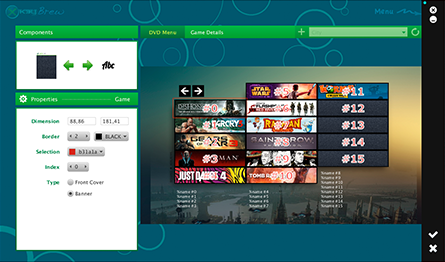 License
Copyright © 2013-2015 Badisi
Permission is hereby granted, free of charge, to any person obtaining a copy of this software to use, publish and/or distribute the Software, but with restriction including the rights to modify, merge, sublicense and/or sell copies of the Software.
THE SOFTWARE IS PROVIDED "AS IS", WITHOUT WARRANTY OF ANY KIND, EXPRESS OR IMPLIED, INCLUDING BUT NOT LIMITED TO THE WARRANTIES OF MERCHANTABILITY, FITNESS FOR A PARTICULAR PURPOSE AND NONINFRINGEMENT. IN NO EVENT SHALL THE AUTHORS OR COPYRIGHT HOLDERS BE LIABLE FOR ANY CLAIM, DAMAGES OR OTHER LIABILITY, WHETHER IN AN ACTION OF CONTRACT, TORT OR OTHERWISE, ARISING FROM, OUT OF OR IN CONNECTION WITH THE SOFTWARE OR THE USE OR OTHER DEALINGS IN THE SOFTWARE.
---
This project also use additional software (feel free to support them):
Updated