Thanks for considering playing our mod. Here is a tiny guide that will help you install Star Wars Conquest as painlessly and straightforward as possible just in case you need it.
Before anything, be warned that doesn't work with Warband, this is made for the original Mount&Blade 1.011.
If you try to use it with the wrong game it will show you an ugly Unable to open file: CommonRes\costumes_a.brf

Step 1—Install Mount&Blade 1.011
All the Mount&Blade mods work with their trial versions, as the game is the same, just limited to level 7.
Feel free to try it out even if you don't own the game.
There exists an official enhanced version of the game which solves most part of the crashes and unstability problems.
Our team recommends using this one over the traditional standalone and Steam versions.
You can obtain it from a good number of places, like one of these three:
http://www.moddb.com/games/mount-blade/downloads/mountblade-1011-fall-2009-enhanced-version#subheader
http://www.gamefront.com/files/20832089/mountandblade_1011_setup_enhanced_exe
http://www.mbrepository.com/file.php?id=2595
Execute and install, doesn't need of any other patches or hotfixes.
If you already have installed Mount&Blade 1.011 in your computer, skip this step and just install the mod.
Step 2—Install Star Wars Conquest
Get the latest release from our download page. It's the one at the top.

Our mod is distributed packed within a 7z file. Which is the compressed format with the best compression ratio, or in other words, less to download. As Windows doesn't seem able to open these files by default, you will need a decent application like 7-zip or PeaZip, which are free and open source.

Other closed shareware tools like WinRAR and WinZip can help you with this task too. But we don't feel like supporting bloatware for now.

Extract the 7z within your Modules folder, within your Mount&Blade installation. Shouldn't be too difficult to locate it.
They are commonly installed in:

Steam version:
C:\Program Files\Steam\SteamApps\common\mount and blade\modules\ or
C:\Program Files (x86)\Steam\SteamApps\common\mount and blade\modules\
Standalone version:
C:\Program Files\Mount&Blade\modules\ or
C:\Program Files (x86)\Mount&Blade\modules\
By default there is just a module, Native, the medieval game.
Put the Star Wars Conquest folder next to it, don't overwrite anything.
Step 3—Play
Once you have completed all the steps, got your hands dirty and found that installing mods wasn't that difficult after all
you are prepared to play, all set! Launch the game as normal, and select your favorite module from the drop down list.

Optionally you can switch to our font for better immersion. Mount&Blade fonts are global, not applied per module,
to taste the Star Wars style in your in-game typography just run Change Star Wars Conquest Font.cmd

Run it again to roll it back. As hard as that.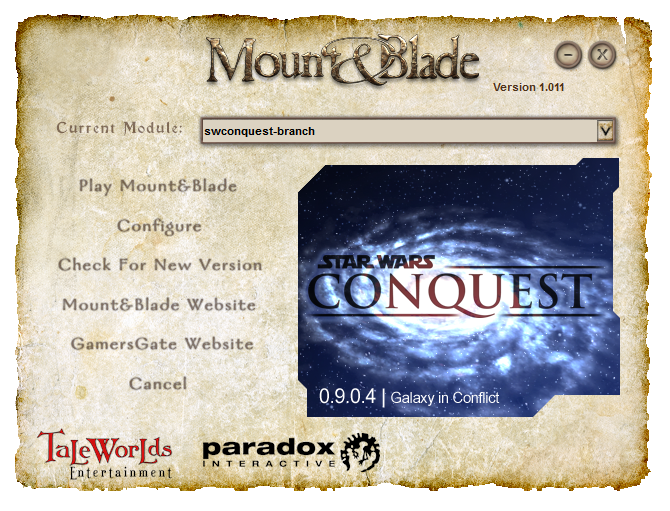 Tutorial Revisions...
*August 23th, 2011 - Some minor corrections and added direct links.
*September 22th, 2012 - Completely rewritten with better English and less steps.
*February 28th, 2013 - Refurbishing markup.
Updated