Overview
Confluence 4 plugin that creates a status list created from "tags" added to the content of pages.
Tag Content
Use any of the built in emoticons to "tag" a line while typing in Confluence. For fast editing, you can use short cuts:
(/): check mark
(x): error
(?): question mark
(!): exclamation mark
(on): light bulb
"Tags" can have any meaning that you want, it is a way of marking content for follow up.
Tag summary
On a parent page, add the "Tag Summary" macro to view a tree that summarizes all the tags available on child pages.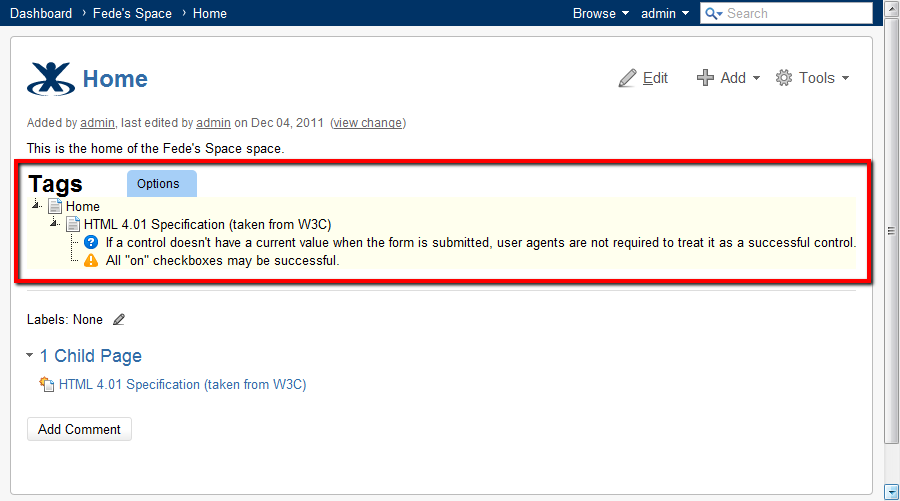 Page hierarchy
The tag summary becomes really useful when there are many hierarchical pages of content and the author needs to keep track of action items across them.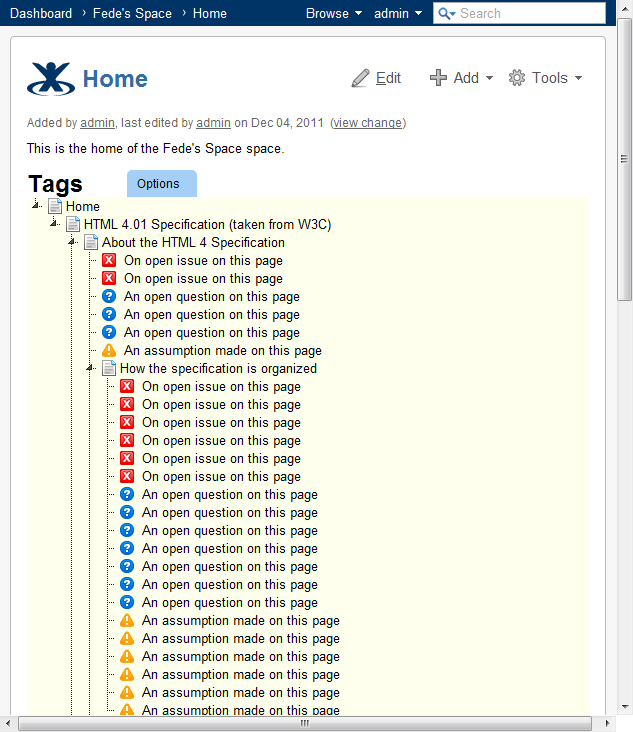 Filter tags
Filter which tags to show on the tree to quickly identify the items that you care about.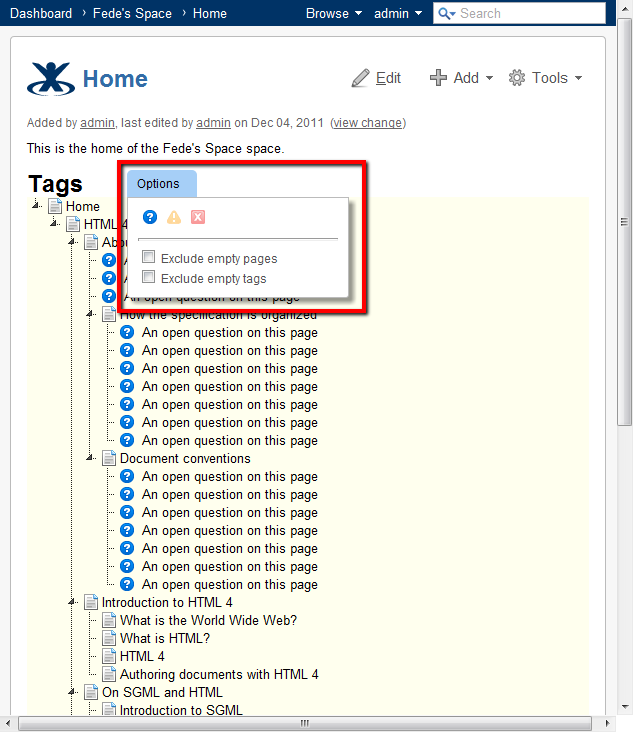 Preview
Click on a tag icon on the tree to open a preview window that loads the content of the child page, scrolled to the section where the tag is located.
Clear tags
When an item is resolved you can clear the tag directly from the tree, this will remove the icon from the target page. Right click on a tree node to bring up the context dialog.
Uses
Test Notes
The original work flow behind this plugin. A common technique while performing exploratory testing is to keep notes during the test sessions. Confluence is an excelent tool for this and this plugin allows testers to mark their notes for follow up. The semantics that I use are:
(x) An issue or bug found while testing.
(?) Something to clarify with project manager or developer.
(!) Something that still needs to be tester (useful to list test scenarios todo)
(/) A test scenario that has been explored.
(on) An idea for a future test session.
There are many pages with test notes created for each feature during the course of development, the tag summary gives a quick look of things to track down.
Specifications
Another popular use case is to use tags to mark incomplete things on a technical specification.
Updated