(added Oct 2014) We made a newer version of the sta-toolbox publicly available. There is now experimental "native matlab support". This means, it should be possible to compile most of the code without installing the gsl or fftw (particularly useful for windows users).
Welcome
The current version of the STA-ImageToolbox provides matlab & c++ code for densely computing local
3D rotation invariant image descriptors based on our paper:

Henrik Skibbe, Marco Reisert, Thorsten Schmidt, Thomas Brox, Olaf Ronneberger and Hans Burkhardt,
"Fast Rotation Invariant 3D Feature Computation utilizing Efficient Local Neighborhood Operators"
in IEEE Transactions on Pattern Analysis and Machine Intelligence, accepted. (Preprint available here)
If you use our functions or partially make use of our code then please cite this paper.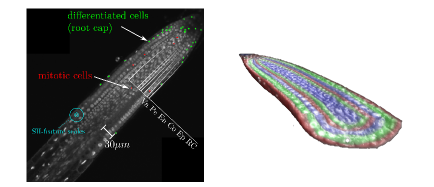 Feel free to check out the code or download a ZIP file containing the most current version.
licence
Requirements
installation instructions can be found in the README.txt file in the root directory
of the repository.
| successfully tested with | |
| --- | --- |
| windows 7 64bit | octave 3.4.3 |
| ubuntu 11.10 64bit | matlab 2010a |
| ubuntu 12.04 64bit | matlab 2011 |
We currently offer the following functions (matlab & octave)
| function name | | |
| --- | --- | --- |
| sta_localfeat_SLD_cfast | spherical Laguerre Descriptor SLD | preferred implementation |
| sta_localfeat_SLD_c | spherical Laguerre Descriptor SLD | |
| sta_localfeat_SGD_cfast | spherical Gabor Descriptor SGD | preferred implementation |
matlab only:
| function name | |
| --- | --- |
| sta_localfeat_SLD_m | spherical Laguerre Descriptor SLD |
Bibliography
Henrik Skibbe, Marco Reisert, Thorsten Schmidt, Thomas Brox, Olaf Ronneberger and Hans Burkhardt,
"Fast Rotation Invariant 3D Feature Computation utilizing Efficient Local Neighborhood Operators"
in IEEE Transactions on Pattern Analysis and Machine Intelligence, accepted
Updated